Antibacterial Face Mask
Coradorables is now offering face masks for the entire family. These face masks, which have a semi-permanent antibacterial property, are made of a soft, breathable fabric and cover the nose and mouth. They include quick absorbing and drying properties that allow the user to feel comfortable and safe at all times. They are made of a zirconium silver compound (non-nano material), which kills 99.9% of germs, including staphylococcus aureus, the cause of food poisoning and sweat odor, and pneumococcus, which causes various respiratory infections.
Read a special message from Coradorables founder Cora Spearman about COVID-19.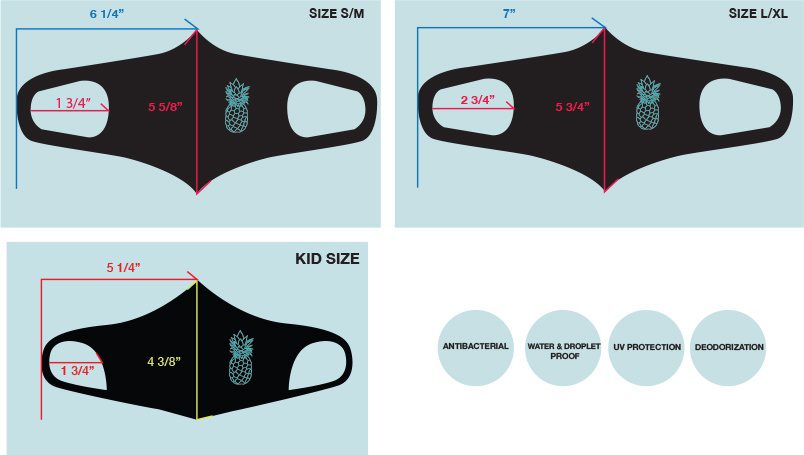 Fabric Type:
Lightweight non-woven

92% Polyester 8% Spandex

Mask made in USA and fabric made in South Korea

Versatile antibacterial fiber

SEK Certification Mask (Antibacterial Finished Textile Product Certification) from Japan Textile Evaluation Tech Council

Third party test result available upon request

Antibacterial lab test results available upon request
Counting in Current Times is a fun activity for kids to be transported to the tropical islands of Hawaii with sisters Belle & Zoe and friends the Hawaii Transplants. Healthy tips for kids. A cute tropical escape for families. A counting book based and created in Hawaii. A very easy and quick read and available on Amazon.
A Message from Cora Spearman
I was asked on multiple occasions by family, friends and clients to make masks for their families. I knew I had to make them. I also knew I did not want them to be made of only our fabrics, I wanted to offer friends and family premium protection at an affordable price.
I also wanted kids to learn the importance of wearing masks and to not have it be daunting but to make it fun and have the masks be soft and comfortable. I knew somehow we could bring in our characters and have them address our current times with love and understanding, giving kids solutions and activities while quarantined with helpful tips for when they leave their homes.
N95 masks are hard to come by so we wanted to make sure that we could offer a product that could give the best protection we possibly could with little mark up. We want to offer the best price for the quality. I looked through my sourcing and manufacturing network and partnered with a provider that could make us a certifiable antibacterial, waterproof, washable, reusable mask.
We hope that our characters will give some light and levity to our current pandemic. We are doing our part to remain sustainable, attainable and affordable. We are a brand rooted in family values so we are doing our best to continue to provide a valuable service to the families we serve.
We wish for continued blessings of great health, peace and joy to us all.
— The Coradorables family